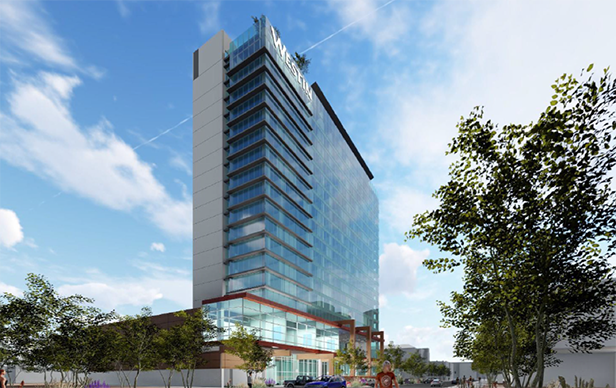 DALLAS — The hotel sector was hit especially hard by the pandemic. With social distancing requirements and travel restrictions relaxing, the hospitality industry can finally plan for new product, according to David Cain, VP of HALL Structured Finance (HSF). GlobeSt.com reached out to Cain to discuss what's next for hospitality construction financing, including the asset types and locations most favored by lenders.
"Today, we are more optimistic that hospitality will return more quickly than projected," he said. "Conventional wisdom says that it will take about three years, so until 2023-2024, to get back to 2019 pre-COVID levels, but I could see it returning in the next 1.5 or 2 years."
The Mortgage Bankers Association (MBA) also offers optimism on that front: fourth quarter 2020 hotel originations catapulted 411% compared to the prior quarter. But construction financing is a different beast. Cain maintains that institutional money will be the slowest to return to the hospitality market, as it will take a few years for insurance companies and investment funds to get satisfactory operational performance numbers for them to lend on hotel projects and assets again.
He notes that private lenders like HSF can answer this challenge with a nimbler approach and creative financing options. Time is also on their side.
"Many hotels are about 18 to 24-month builds so by the time the hotel begins ramping up operations in its first year, the hospitality market should be close to returning to the demand levels we saw in 2019," Cain said. "The long construction timeline just gives more runway for the hospitality market to return to the growing levels we saw pre-COVID."
Setting the MBA's originations report aside, there may be a disconnect between the product that indicates a recovering sector and the ones construction lenders favor. Due to pandemic uncertainty, capital is shying away from asset types catering to group business.
"We're seeing the most growth and lender interest in hotels that are less dependent on corporate or group business travel, such as extended-stay and limited and select-service hotels," Cain said. "I think there's been some reticence from lenders out there for urban core, full-service hotels that rely on group and conference business."
Hotels in tertiary markets accessible by car versus airplane are also getting greater capital considerations, as are projects in states with less stringent COVID-19 guidelines such as Florida and Texas, but that could change with the continued vaccine rollout. Destination-type hotels are moving up HSF's target construction financing list.
"Hotel construction is really our bread and butter," Cain added. "It's going to take some time to get there, but the hospitality sector is trending in the right direction and we are already seeing improvement."
View full story here.